Kramer's Reality Tour One Year
Jan. 27, 1997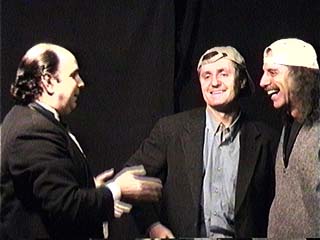 My partner and Reality Tour co-host Bobby Allen Brooks arranged a surprise party for me on Saturday January 25th to celebrate our first anniversary. He sure did surprise me. First with John Tierney of The New York Times who came out from a dark corner of the theater and shocked the hell out of me.



John was accompanied on the tour by his parents.



Kenny, Bobby and John with my dear friends Tom & Alison Sanders and Janet Oseroff who met the bus at the restaurant with champagne for everyone.

Reality Tour January 25th, 1997
A day I'll never forget.